He's Cheating On Your Ass Then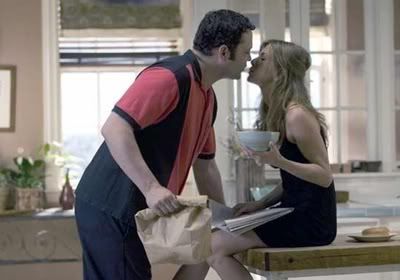 Just three days after
Vince Vaughn
was
caught with a mysterious blonde
in London,
Jennifer Aniston
tells
Oprah
that the two are very much together. Her episode was taped last night and she was there to show some stupid short movie she directed. Yeah who cares. The movie was probably about how boring she is, but probably not because she's too boring to come up with anything that exciting.

According to audience member Margaret Stent, Aniston also said that she hadn't gotten breast implants, as one tabloid recently reported, explaining that when she gains weight, it goes to her chest. Aniston rolled her eyes when asked about Vaughn, adds Stent.

But the actress made it clear that she and Vaughn are "still on," says Suzanne Hartigan, who traveled from Georgia to Chicago for the taping and adds that Aniston is "just as beautiful as she is in pictures."
I'm guessing this isn't the first time marshmallow man has cheated on her ass. She has a hot bod, but you can only do her from the back, because her face is so fug. Furthermore, you can only let Vince do you from the back, because the best position for his huge gut.
Source