Bindi Irwin is Taking Her Father's Place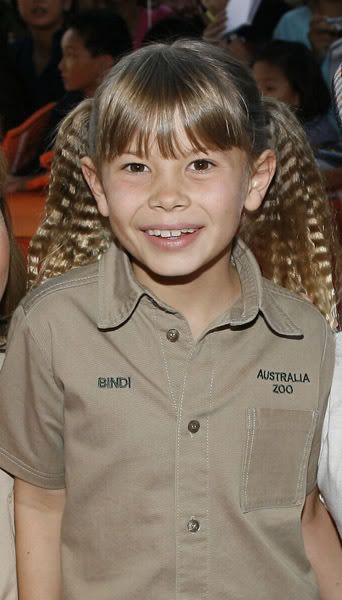 When
Steve Irwin
was killed, the world quickly adopted
Bindi Irwin
as their own. Her apperance at his memorial helped launch her into stardom. Things work quickly, because Bindi is already shooting her own special for Discovery Kids. The show which will air in January 2007 is called,
Bindi, The Jungle Girl
.
She said,
"I'm trying to get across the message that don't be afraid of animals, they're just put on this earth to help the environment and everything like that."
The 26-episode show will also feature her father in scenes that were filmed before his death.
The little girl isn't afraid of animals at all even though her father was killed byone.
"Some people think that I would be afraid of them, but I'm never ever afraid of an animal. I just get excited and some that are dangerous I just think, 'Oooh! What's going to happen?' and things like that.
"
Hey, if you can get famous off of your father's death, why not? She should re-think the hair though. Other than that, she's adorable.

Source