The Amazing Race All-Stars is Coming!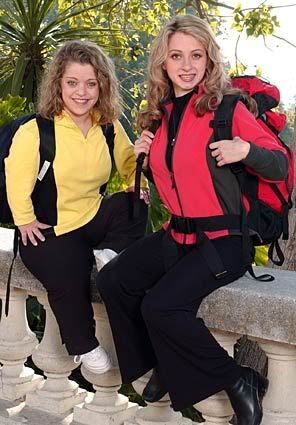 CBS is doing what they should've done for
Amazing Race 10
and is shooting an All-Stars version for their 11th season.
TVGasm
is reporting that everything is set for the new season and the teams have been selected and they have signed on the dotted line. Shooting begins next month.
Apparently, the only two teams pretty much confirmed are
Colin
and
Christie
and the most popular and famous AR couple ever,
Mirna
and
Schmirna
. There are rumors as to the other teams, but these two seem concrete.
How could they not do an all-stars without Mirna and Schmirna? This two were the hottest of the hot. Remember when Charla was forced to carry that huge slab of meat by Mirna? I mean, it can't get any better than that.
Here are some other teams I hope they include:
Team Jesus
David & Margaretta
Oswald & Danny
Teri & Ian
Don & Mary Jean
Adam & Rebecca
Jonathan & Victoria
Lori & Bolo
Meredith & Gretchen
Megan & Heidi
Lisa & Joni
Lyn & Karlyn
David & Mary
Also, in the current season of Amazing Race two of the final three teams have been leaked. Apparently, they were spotted in the city before the final city. These two teams are:
These bitches
and
These Bitches