Brace Yourselves!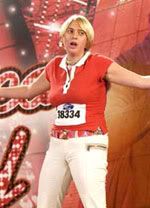 The producers of the smash-hit
American Ido
l
are in talks with
Fox
to bring
Celebrity Idol
to the airwaves. CI is basically like AI, but instead of wannabe singers they will take very well-known celebrities and have them battle it out! Each week America will vote and one celeb will go home. The prize will be a $1 Million donation to a charity of their choice. Producers have said they are hoping to get major names that aren't really known for their singing talent.
They hope for the show to premiere this November. They also wish for
Randy, Paula & Simon
to return as judges.
Hmm... Me not so sure. I think they should get singers that think they can see and have them perform without a backtrack or any kind of effects. I'm thinking
Madonna, Ashlee Simpson, Britney Spears, Posh Beckham
... damn this show could go on forever and ever!
[source]