This Bitch is Smart!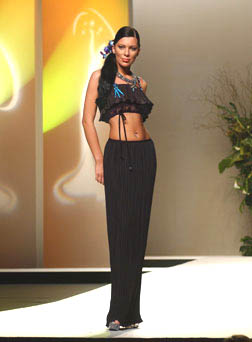 A TV Show in Slovenia decided to hold an IQ test against hot chicks and a nuclear scientist. They were trying to prove how dumb hot chicks are. But the TV show was scrapped after one of the hot sluts proved to be smarter than the nuculear scientist.
Iris Mulej,
a former Miss Universe contestant, was found to have an IQ of 156 by scientists working for the programme makers. The bitch had to take a series of tests to prove her IQ.
A spokesman for Bronz Model Management that represents Iris, 22, said:
"They couldn't really do a programme making fun of dumb models when she turned out to be smarter than anyone else on the programme.
"They are now wondering if they can do a different programme about the world's smartest model, and are trying to persuade Guiness to accept it as a record category."
Iris, who previously admitted one of her ambitions was to have sex with one guy and three other girls, was Slovenia's Miss Universe contestant in 2002.