The House of Dereon
That bitch Beyonce found some company called the Tarrant Apparel Group to back her new fucking fashion line. The fucking line is a mix of "vintage" and "contemporary" crap. This bitch is crazy! The 35yo singer told The Associated Press "I have pretty broad taste. I've been all over the world — thank God I've had the chance to do that." Her mother, Tina Knowles will help her design the ugliest shit every to hit the planet. Her line is set to drop this fall. Here is a sampling at some of what we can look forward to:
You too can look like a fat army captain!
A perfect ensemble when you need a Blanche Devereaux costume for a Golden Girls party!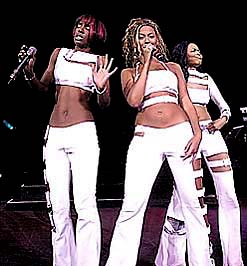 Even Kelly can't handle this outfit!
When you want to look like a damned fool at any cost, come to House of Dereon!
This came up when I googled Destiny's Child. This is their best outfit yet!